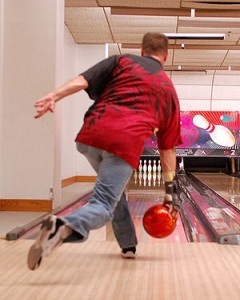 The Alexander Technique offers us a different idea of posture training, a different idea of posture. The Alexander Technique deals with more than just 'standing posture', 'sitting posture' or 'computer posture.'
How about 'looking for something on the first shelf in the back of the refrigerator posture?' What about 'bending down to pick up your bag, then standing to get your coat off a rack posture?' 'Looking for something under the bed posture?' 'Bowling posture?'  The posture word doesn't apply as you go under the sink to check a pipe.
Substitute the word use (rhymes with loose) instead of posture. You can bowl with good use. You can bend down to pick up a bag with good use. You apply the Alexander Technique and it's concept of good use to any situation, and you will improve your posture.
If I ask you to show me your very best posture, what will you do?  First of all, you'll probably do a lot, when the Alexander Technique is more about doing less, (more or less.) To demonstrate good posture you might stand or sit up straight, throw your shoulders back, stick your chest out and suck your stomach in. Full, natural breathing is pretty much out of the question. When you finish with your good posture, you may slump more than before.
The Alexander Technique is something you apply to your life by learning the principles, and cultivating the skill of employing them.
Mark Josefsberg-Alexander Technique NYC
(917) 709-4648